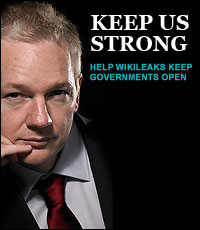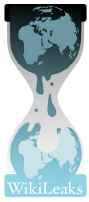 Currently released so far... 4040 / 251,287
Articles
Browse latest releases
Browse by creation date
Browse by tag
Browse by classification
Community resources
Editorial - WIKILEAKS PRESS RELEASE
12 Jan 2011 23:00
"WikiLeaks condemns US embargo move"
WikiLeaks today condemned calls from the chair of the House Committee on Homeland Security to "strangle the viability" of WikiLeaks by placing the publisher and its editor-in-chief, Julian Assange, on a US "enemies list" normally reserved for terrorists and dictators.
Placement on the US "Specially Designated National and Blocked Persons List" would criminalize US companies who deal with WikiLeaks or its editor. "The U.S. government simply cannot continue its ineffective piecemeal approach of responding in the aftermath of Wikileaks' damage," King wrote in a letter to the Secretary of the US Treasury, Geithner. "The U.S. government should be making every effort to strangle the viability of Assange's organization."
'The Homeland Security Committee chair Peter T. King wants to put a Cuban style trade embargo around the truth—forced on US citizens at the point of a gun,' said Julian Assange.
'WikiLeaks is a publishing organization. It is time to cut through the bluster. There is no allegation by the US government or any other party, that WikiLeaks has hurt anyone, at any time during its four-year publishing history, as a result of anything it has published. Very few news organizations can say as much.'
'WikiLeaks has "terrorized" politicians from Kenya to Kansas over the last four years. Quite a few have lost office as a result. That doesn't mean we are "terrorists"—it means we doing our job. We intend to "terrorize" Peter King, Hillary Clinton, corrupt CEOs and all the rest for many years to come, because that is what the people of the world demand.'
King noted that some U.S. companies had voluntarily cut off ties to Wikileaks, but that a New York publisher had recently agreed to pay Assange for an autobiography. Assange has said the eventual book royalties would help 'keep Wikileaks afloat'.
'By targeting WikiLeaks and the US publisher Knopf for economic censorship, King reveals his abiding hatred for the US constitution. When the founding fathers wrote, "Congress shall make no law abridging the freedom of speech, or of the press", they did not provide an exception for blustering fools like Peter T. King.'